Carolyn Leigh.com: Home | About Carolyn Leigh | Contact | Site map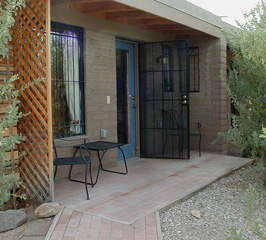 Adobe guesthouse: rent by week or month, Tucson, Arizona, USA (CarolynLeigh.com)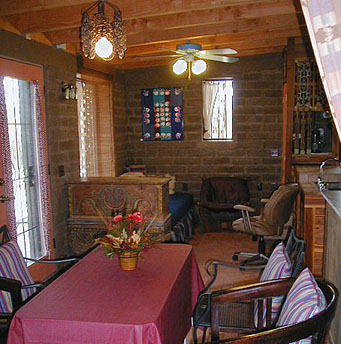 Treat yourself to a vacation retreat in the beautiful Sonoran Desert, Tucson Mountains, Tucson, AZ USA
Completely furnished 700 sq. ft. artist designed adobe guesthouse available for short term rentals for vacation or business travel.
Easy access to the museums and events at the University of Arizona, downtown Tucson and Pima Community College
Adjacent to Feliz Paseos Universal Access Park and Tucson Mountain Park, short drive to Saguaro National Park West and the Arizona Sonora Desert Museum. Cross streets are West Speedway and North Camino de Oeste.
Sleeps 3 in single beds, all universal access, cooking and laundry facilities. $425 weekly rental. $825 monthly plus electric and a refundable cleaning deposit, lease required for rentals of more than one month. 50% deposit, refund only if canceled 2 weeks before first day of stay. Guests are responsible for their own laundry and housekeeping. There is dsl internet access. Please note there is no TV and some cell phones do not work in this area. For an extended stay, you may want to rent a TV and contact Qwest to activate a telephone connection. No smoking and no pets.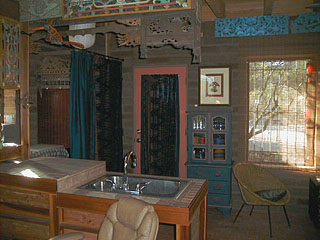 Events:
Artists: take classes at Pima Community College or the Arizona Sonora Desert Museum
Tucson Gem and Mineral Show: minutes to freeway motel shows and downtown Convention Center
El Tour de Tucson: secure patio for bicycles, right in the Tucson Mountains
Birders: many desert birds on the property and in the parks, see the Gates Pass Area Neighborhood Association checklists for birds, mammals, reptiles and amphibians in the Tucson Mountains
Contact Carolyn Leigh for details. Please put guesthouse rental in the subject line of your email, so I will see it. It's best to email me first rather than phone.
CarolynLeighStudios at gmail.com (This link does not work with all browsers.)
P.O. Box 87768, Tucson, AZ, 85754-7768 USA
Tel: 520.909.7874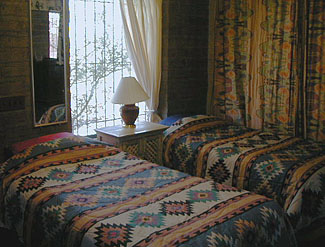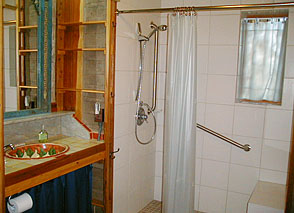 Carolyn Leigh.com: Home | About | Contact | Site map | top of page
Copyright © Carolyn Leigh, 2001-2012, P.O. Box 87768, Tucson, AZ 85754-7768 USA
www.carolynleigh.com/renthaus.htm