1976 Glimakra Aktiv Counter-march 54" Loom for Sale (CarolynLeigh.com)
Are you looking for a great loom?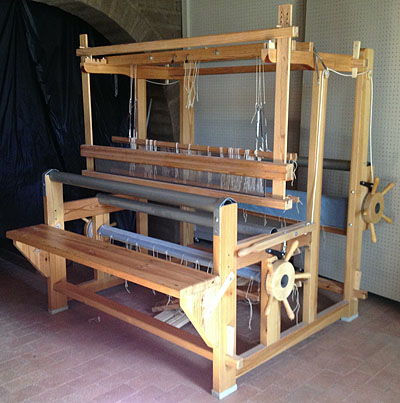 This loom is the same as a Glimakra Standard, but with 5 tubular steel beams. It has an attached bench, horizontal jacks, 8 harness/8 pedal.
The metal beams insure strong, even tension for rugs, fine weaves and yardage. The wide shed is perfect for hand-manipulated and fast shuttle weaves. This 1976 loom is from the last of Glimakra's Activ metal beam, countermarch looms.
Excellent condition: $3,000
Includes:
2,500+ #18 heddles
5 and 12 dent reeds (some rust)
4 x 24" rug shuttles
1 regular bobbin shuttle
1 double bobbin shuttle
1 x 36-58" temple
1 reed hook
Assorted other pieces, including counterbalance pulleys.
The original instructions for tie-ups, etc. are included.
Contact The Tucson Handweavers and Spinnners Guild
for details at
https://thsg.org/looms-wheels-for-sale/

Carolyn Leigh.com: Home | About | Contact | Site map | top of page
Copyright © Carolyn Leigh, 2001-2019, P.O. Box 87768, Tucson, AZ 85754-7768 USA
www.carolynleigh.com/loomsale.htm