digital 1 | digital 2
Carolyn Leigh Studios presents: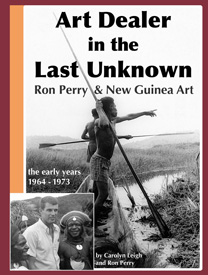 Art Dealer in the Last Unknown
Ron Perry and New Guinea Art
the early years: 1964 - 1973
by Carolyn Leigh and Ron Perry
Join Ron in the jungles of New Guinea on his search for tribal art
320 pages of adventure, over 450 early photographs
Read a chapter preview from Art Dealer in the Last Unknown
Order at www.Art-Pacific.com/apbklist.htm
"Who else can tell you these stories?" Raymond Weilgus
"Beautifully written...." Don Carson, retired head of the School of Journalism, University of Arizona
Are you looking for a great loom?
Glimakra Aktiv Countermarch 54" Loom for Sale
8 harness/8 pedal, metal beams - perfect for rugs, fine weaves and yardage.
Carolyn Leigh.com: About | Contact | Site map | top of page
Copyright © Carolyn Leigh, 2001-2022, PO Box 87768, Tucson, AZ 85754-7768 USA
www.carolynleigh.com/index.htm